Sheet Metal Cutting Machine-QC11K-12X3200
QC11K-12X3200 Sheet Metal Cutting Machine are mainly used to shear stainless steel, ordinary carbon steel, aluminum sheet, etc. The main shear thickness of this machine is ordinary carbon steel 12mm, stainless steel 10mm, and aluminum plate 20mm, this machine is currently used in the plant of the customer in Argentina, this machine is the longest shear length of 3.2 meters. The following is a description of some of the machine's performance. You can open our Hydraulic Guillotine Shears page to learn more about this machine.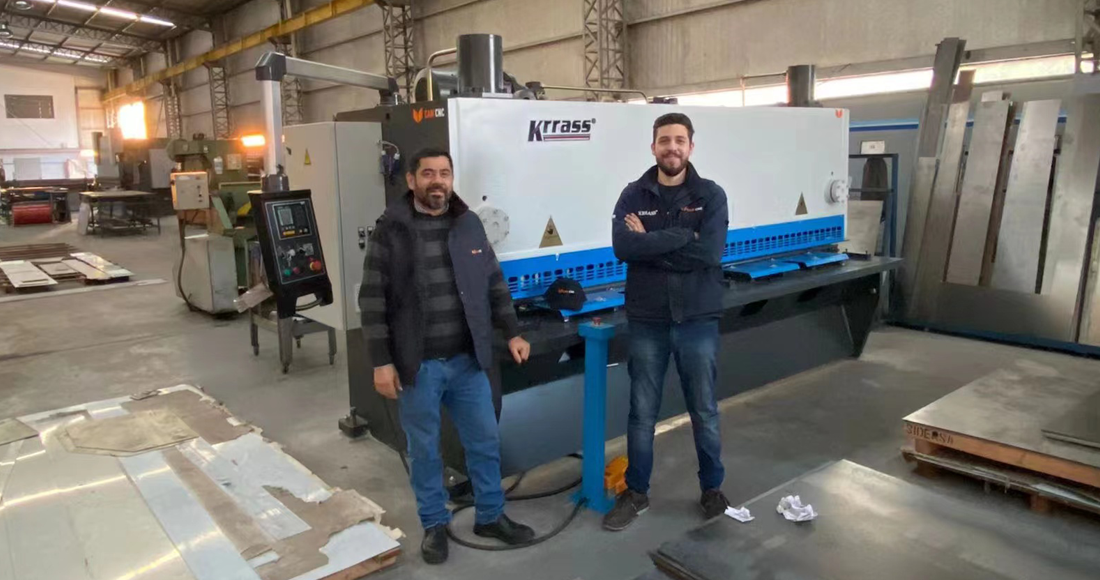 Sheet Metal Cutting Machine Main Features:
Sheet Metal Cutting Machine Streamlined design originated from EU, main structure consists of rack, cutter holder, oil cylinder, hydraulic controller, back gauge, and others. Finite-element analysis of main parts, Welding parts uses tempering, vibration, and other processing methods to eliminate stress ensuring the structural strength and rigidity of each component;
Cutter holders use three-point support rolling guide rail, reducing the friction to the greatest extent, and realizing seamless rolling during cutter holder moving;
Left-most front holder configured with verticality regulator and front positioning device, easy operation, and high efficiency;
Simple and effective blade-adjusting mechanism rearranges blade clearance by the CNC system, improving the cutting quality;
Fine ball screw and polished rod structure, using good-performance frequency converter positions X axis to ensure accuracy, unique designed timing transmission mechanism, stability, and reliable;
Light and shadow lines are conductive to manual scribing for cutting; stable and reliable hydraulic transmission; the integrated hydraulic system is able to significantly alleviate problems caused by hydraulic fluid leakage;
Sheet Metal Cutting Machine Made of high-quality alloy tool steel capable enough against impact load and high wear resistance when cutting; 8. With reference to ergonomic design, easy operation with NC system surface, improving the operation precision and comfortability; rolling ball workbench to reduce friction and prevent work piece surface from scratching; unique and practical safety guard, line with safety specifications, protect the personal safety; exquisite design, the petty workpiece can be done easily by hand.
Machine welding is made by welding apparatus and welding robots.
After the welding, we make a stress relief process by vibration system.
After the stress relief process machine frame goes to CNC 5 axes machining centers for accuracy.
Sheet Metal Cutting Machine All reference surfaces and connection holes are machined.
By all these processes machine frame sensitivity is protected for a long lifetime.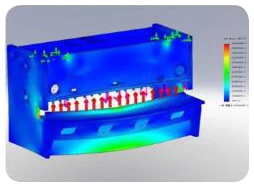 ESTUN E21s NC Control Unit: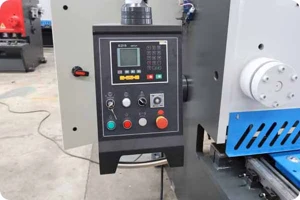 Wide, bright, and colorful to program easily
Easy control pages
Bright LCD screen
Back / front gauge control
Retract function
Stroke length limitation
Manual movement of all axes
Sheet thickness measurement
Contextual help and warning pop-up.
Complete part of programming in seconds.
Learn more about our products, please visit and subscribe to our Youtube channel