There are 3 points you need you pay attention when you use or filling the Press brake hydraulic oil the hydraulic system.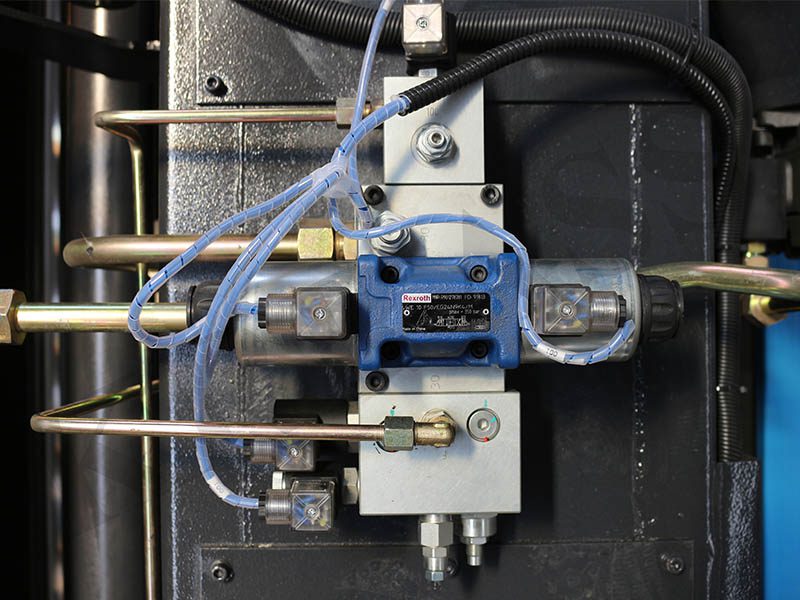 The hydraulic system has high requirement for the cleanliness of hydraulic oil. The clean of oiltank is very important.
When replace the hydraulic oil, you must discharge the cover of oil tank. Use the towel toclean the bottom of tank (do not use cotton yarn), then wash with cleaning coal oil gasoline. Forlimitation of tank cover, the arm cannot reach the end of tank; you can wrap the towel on thebamboo or stick to wipe each corner. Loosen the leaking plug or brake valve to leak out the dirt oil.
Use the cleaning towel to dry the sides and bottom of tank until it's clean. If necessary, roll thedough at the welding seam or difficult cleaning places to cling the dirt, and then put on the cover.
The mark value of hydraulic oil is equal to the average value of viscosity, when the temperature is 40℃.
If the working pressure and temperature of hydraulic system is higher, and the working speeds slower, the chose hydraulic oil mark is higher.
It is recommended to use antiwar hydraulic oil ISO VG46# (the average value of viscosity is 46mm2/s, when the temperature is 40℃.). If the machine operates under 5℃ for a long period, you can choose hydraulic oil ISO VG32#.
It is also recommended not to use the machine at very low temperatures (below ‐5°). However, should this occur, and then let the machine run idle for a while. An oil heater can be fitted in circuit if required.
Under the normal working conditions the oil temperature must not exceed 70C.
Under special conditions, oil cooler can be fitted necessary.
The using oil must clean. Screw the nut of air filter, filling through air filter. If using the filling equipment with filter, you can open the cover of oil tank and fill directly. Observe oil gauge, when ram stops at Top Dead Spot, the hydraulic oil fills at 80~90% of interspaces.
Learn more about our products, please visit and subscribe to our Youtube channel