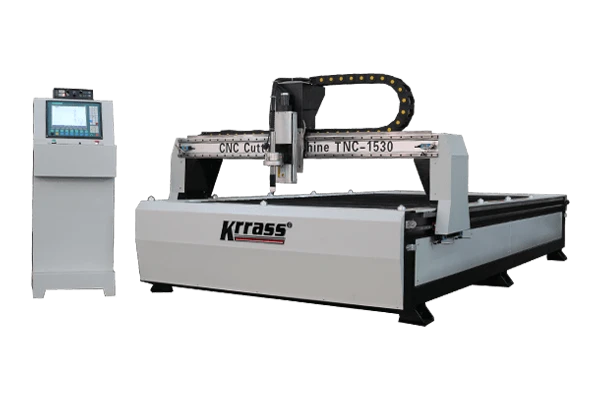 Table Type Plasma Cutting Machine
KRRASS Table Type Plasma Cutter Machine
P-Series plasma cutting machine is used for cutting thick metals. The Hypertherm cutting head is a reliable and robust plasma source. Together with the CNC control unit and power source provides precise and high-quality cutting. P-Series plasma cutting machine is designed for precision cutting, High Performance, and High Speed. It can be equipped with Pipe cutting, a 5-Axis beveling head, multi-plasma heads, and Oxy cutting heads.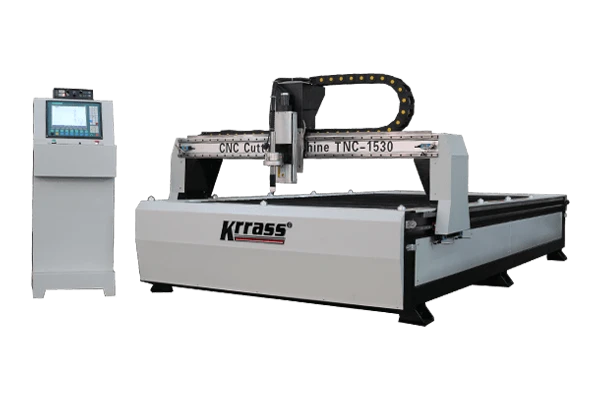 Top performances allow to accurately and cost-efficiently cut pieces in high volumes.

The cutting table is also structurally independent from the machine, which is ideal for loading heavy plates since accidental shocks will not affect the performance.

A unique safety system, with an assigned perimeter and an emergency stop, stops the machine instantly in the event of a collision to protect the safety of your operators.
Technical Parameters Of Plasma Cutting Machine
P-Series Plasma Cutting
Cutting Width
Cutting Length
Table Height
Height
Width
Length
Width (Including Power Unit)
Length (Including Filter)
Filter Height
Filter Length
A
B
C
D
E
F
G
H
I
J
mm
mm
mm
mm
mm
mm
mm
mm
mm
mm
A1500
3000
1500
3100
650
2000
2320
4500
5500
6500
2200
2000
4000
1500
4100
650
2000
2320
5500
6000
7500
2200
2000
6000
1500
6100
650
2000
2320
7500
6000
10000
2200
2500
A2000
6000
2000
6100
650
2000
2820
7500
6500
10000
2200
2500
Introduction to Configuration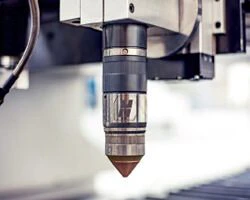 High productivity, low operating cost, high cutting speed, long life and exceptional cutting quality. Offers wide range cutting from very thin sheet thickness to very thick sheet thickness.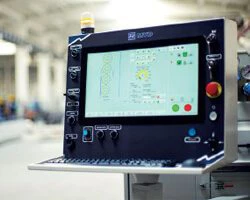 CNC CONTROL UNIT ESA / HYPERTHERM
Thanks to its easy operation, plasma processes can be efficiently and easily managed.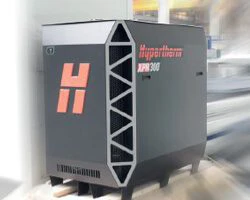 Efficiency, fast cutting, fast processing cycle provides high reliability with easy replacement of consumables. Advantages: Superior cutting quality, minimum operating cost and maximum productivity.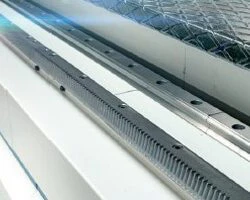 RACK PINION AND LINEAR GUIDING
High precision cutting achieved with dual guiding system Rack Pinion and Linear Guides.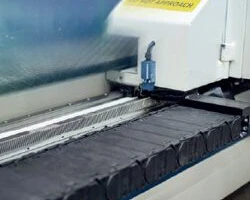 Cable channels in accordance with CE standards, silent operation, durability, With its anti-friction and non-breaking properties usage life is much longer.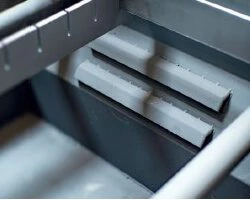 PARTIAL PNEUMATIC SUCTION SYSTEM
With the PLC software, pneumaticly controlled hatches which are only at the cutting area are opened. With this way more powerful suction with less energy consumption can be achieved.
Introduction to Configuration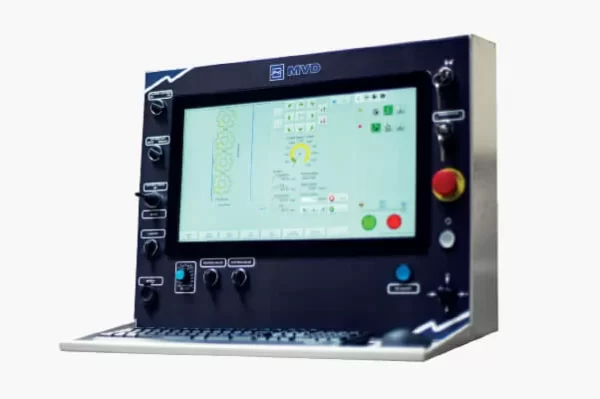 EDGE® Connect, Hypertherm's newest Computer Numeric Control (CNC) plat- form, delivers unmatched reliability, powerful embedded capabilities, and a high level of customizability. Based on our proprietary, industry-leading Pho- enix® CNC platform, the system offers new, advanced software features – inc- luding ProNest® CNC automatic nesting delivering SureCutTM technology – along with enhanced hardware. For easy set up, changes, and upgrades, EDGE Connect CNCs can be configu- red in the field with software specific to the cutting machine application. The easy-to-use system combines advanced cutting performance with an intuitive graphical interface, and supports plasma, oxyfuel, and waterjet applications.
With Patented CutPro® Wizard, even new operators can be cutting production parts in less than five minutes 
On-screen Software Operator's Console (Soft OpCon) allows easy setup and operation of cutting station and manual motion 
Integrated communications with plasma and torch height control systems deliver automated and expert control using installed factory or custom cut charts 
Custom cut charts can be created and controlled in the part program or made available to the CutPro Wizard
EDGE Connect runs on the Windows® 10 Enterprise operating system
CAD / CAM SOFTWARES FOR Plasma Cutting Machine

ProNest® LT (formerly known as TurboNest®) is a powerful CAD/CAM part nesting software designed for light industrial, mechanized cutting in production environments. It provides a single software solution for all your conventional plasma and oxyfuel cutting machines.
Part design and development

Integrated 2D CAD program to create and edit CAD files
Variable Shape Parts library to develop common parts from templates

CAD/CAM import and conversion

Import CAD files (industry-standard file formats)
Import PDF
Raster to vector converts static images to CAD
Automatic CAD file correction and error notification
Automatic spline/ellipse smoothing and reduction
Separate multiple parts from a single CAD file
Automatic mapping of CAD layers to processes (cut, mark, etc.)

Fast, easy job setup
SureCut™ technology and built-in process enterprise
Interactive manual nesting
Detailed reporting
Simplified costing
Choice of output
Post-processor with NC output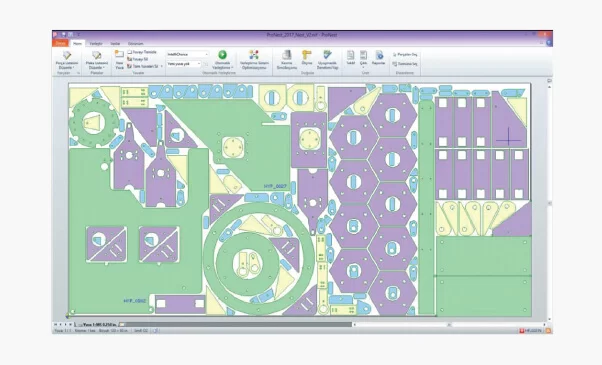 Offers perfect nesting efficiency for automatic or manual part nesting
Copy, move, reverse, turn alignment manual, semi-automatic, functions geometrical working
Advanced nesting algorithm optimizes the use of a material, minimizing scrap.
Can work with standard sheets stocked in the warehouse and/or with scraps obtained from previous processes.
Automatic cutting path determination
Time/Cost analyses
Simulation before actual cutting
Smart Part importer / Exporter from CAD system, DXF, DWG, IGES, Step etc file formats
Part Drawing module, call parts, automatic or manual nesting, machining, CNC codes generates, Sheet metal stock searching etc
Various input/output methods, film burning, specialized piercing, fast laser, micro-joints, head direction management, edge binding
Complicated functions and program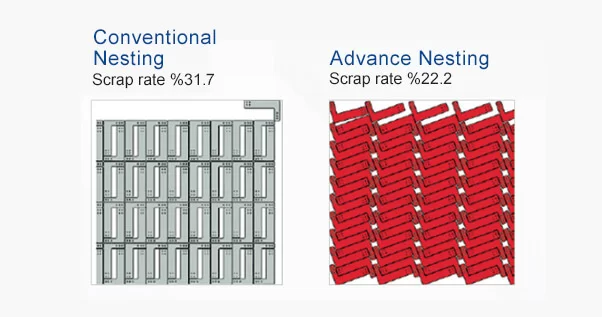 KRRASS 5-Axis beveling head is designed for 3D and angle cutting. Up to 45° all the angles are calculated automaticly and created so the operator can input the desired angles as needed. Also the straight vertical cuts can be done, reduced maintenance due to height detection sensor.
Automatic angle adjustment
Time saving – short setting time
Excellent cutting and contouring
Low production costs
Offers bolt hole quality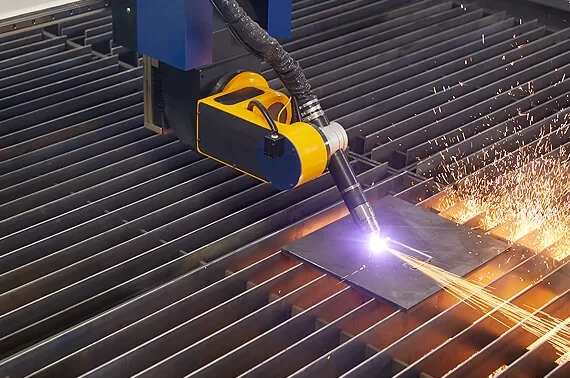 KRRASS CNC Controlled plasma cutting machines also provide oxygen cutting capability. With our oxygen head equipped machines up to 200 mm cut can be done and this limit can be increased with special design options.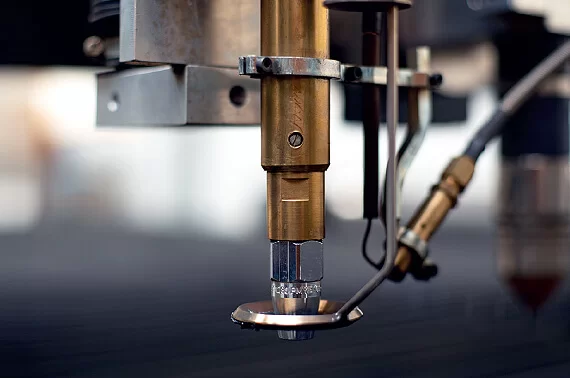 The KRRASS Plasma series uses Hypertherm's patented technologies for quality, more power, more precision and more consistent cutting.
Power Pierce: Repels molten metal during piercing allowing strong production piercing
Long Life: Gas intake and flow rate is adjusted under contol.
High Definition: Aligns and focuses the arc, superior quality and consistent cutting
High Definition: Delivers increased arc density and cut speeds while maintaining arc stability and smoother cut edges.
Increases number of cuts per hour
Decreases cost per cut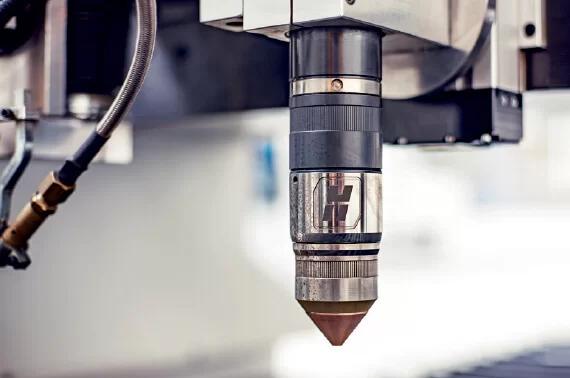 DUST COLLECTOR FILTER SYSTEM
During plasma cutting machine cutting operations filter is needed for extraction of smoke, dust and emissions. Creates a more better working environment for everybody, specially for plasma operators. Shipped in one piece by means of its specially defined dimensions, this way all accessories and pre-set and ready to startup. Particles carried by the dirty air entering through the side walls of filter cabin are held by means of a crashing plate. In this section, speed of the air is decreased and desired filtering rates are obtained. In addition, sparks that may touch the filter and big and corrosive particles are directed to the collecting bucket underneath the bunker. Thus, life of the filters is increased. Other dusts and smokes that constitute the polluted air are held by BIA-approved filter materials tested according to DIN EN 60335-2-69 appendix AAand selected according to the application. Dusts held are automatically cleaned thanks to jet pulse cleaning system. Cleaned air is absorbed from the cabin by means of a fan and released to the environment desired.
For more information, please refer to the following articles:
Please drop your contact to get in touch within 24 hours.