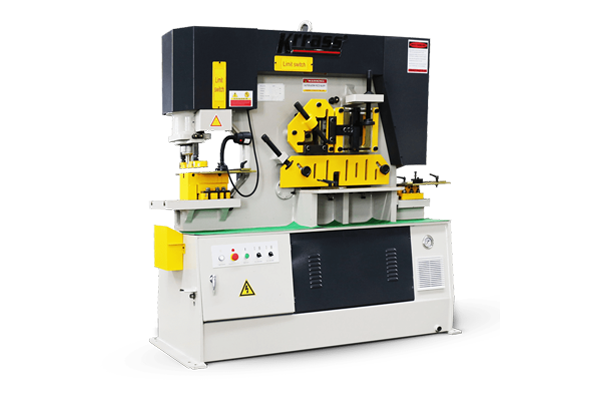 Hydraulic Ironworker Machine
KRRASS Hydraulic Ironworker Machine
KRRASS ironworker machine is designed with multi-functions to save labor, time, energy, and cost. This versatile aspect allows the KRRASS ironworker machine to meet the diversified needs of the metal fabricating industry. Currently, KRRASS has the highest reviews of any ironworker machine brand on the market today.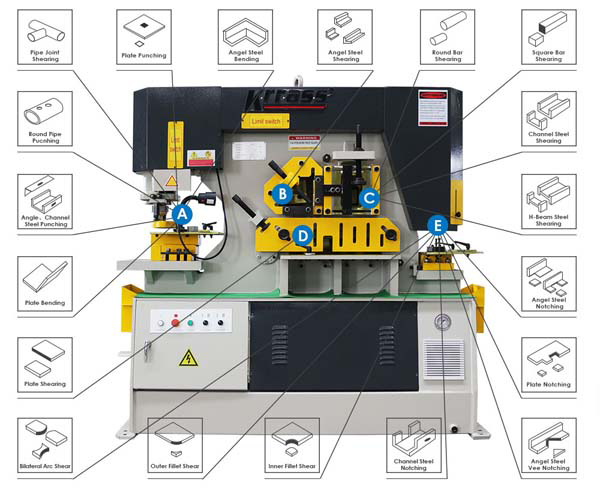 Top performances allow to accurately and cost-efficiently cut pieces in high volumes.

KRRASS has entirely designed the proportional oil hydraulic circuit. It is optimized for every guillotine shear size, with high-quality and reliable parts.

Hydraulic ironworker machine is available in a wide range of models and powers. Ironworker machines can customize parameters to the highest levels in the category.
All metal punching operations of the ironworker machine are processed using hydraulic power, thus allowing the machine to punch very efficiently and silently. Punching is silent, powerful, and efficient. The device can either be used to hit thick metal or thin materials layered together. The waste materials come off together and in layers. The punching table consists of two parts: the first is the punching flange, and the second is the holder. There are different holders for different materials. The holder is a device that prevents the fabric from coming back with the punch after cutting.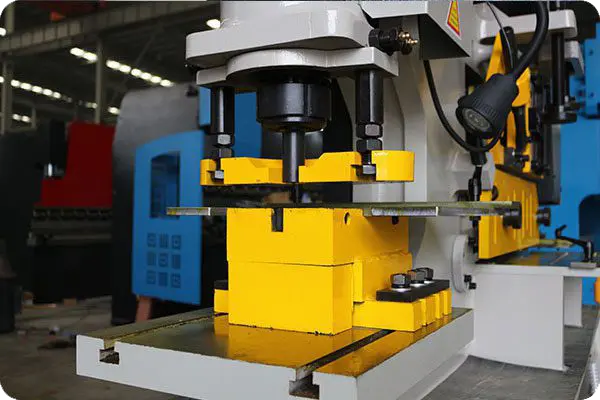 Flat bars shearing station
The metal shear station of the ironworker machine has been equipped with simple and sturdy fixing mechanisms. Depending on the machine's cutting capacity, You can adjust it for any steel thickness. The shearing capacity can go up to 17.71 inches in the flat bar or the cutting of corner profiles. The shearing blades, built for mass production, can be used on both sides (the upper blade has two cutting edges, and the lower blade has four cutting edges); this ensures a clean cut with minimal warping, from the total capacity to a thickness of only 1/8 inch.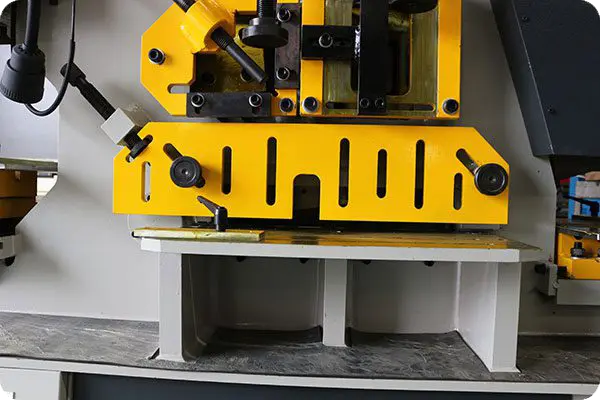 Standard machines are equipped with blades for cutting U-sections. The edges are held by efficient jaws, ensuring the equipment can be arranged easily at the device without any additional adjustment. Thanks to other equipment, cutting I-section profiles, T-sections, and round and square metal bars is possible.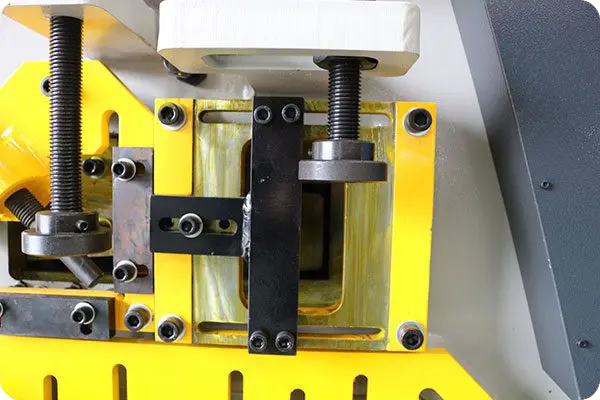 Notching station of ironworker machine
High Adaptability: With QBH, QCS, and other optical fiber interfaces, it can be adapted to various mainstream laser devices.
Excellent Design: Optimized optical configuration and smooth and efficient airflow design significantly improve cutting quality and efficiency.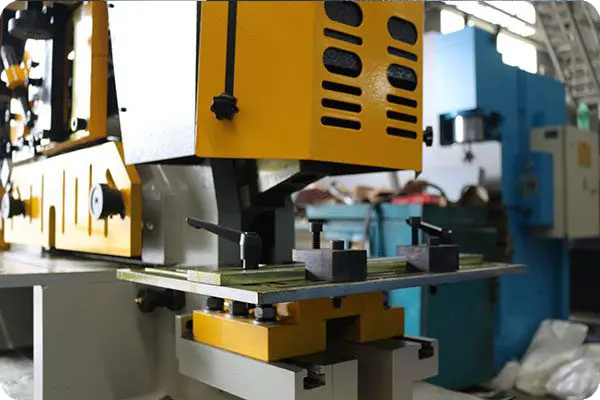 This station enables the cutting of large angles with a capacity ranging from 17 3/4 inches to 35 1/2 inches.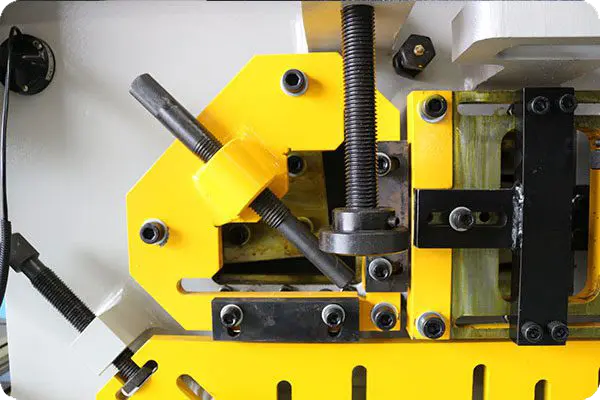 Technical Parameters of Ironworker Machine
Technical Specification
Q35Y-12
Q35Y-16
Q35Y-20
Q35Y-25
Q35Y-30
Q35Y-40
Q35Y-50
Punching Pressure(T)
35T
60T
90T
120T
160T
200T
250T
Depth of throat(mm)
115
300
355
400
600
600
600
Standard Die
Punching
Dia.X Max.Thickness
mm
25X12
25X16
30X20
35X25
38X26
40X35
40X40
Dia.X Thickness
mm
25X12
25X16
30X20
35X25
38X26
40X35
40X40
Max.Diameter
mm
12
25
30
35
38
40
40
Travel
mm
35
80
80
80
80
80
80
Working Travel
mm
X18
X20
X25
X25
X30
X35
X40
Throat Depth
mm
115
300
355
400
600
600
600
Steel Bar
Round
mm
35
45
50
60
65
70
80
Square
mm
30X30
40X40
50X50
50X50
55X55
60X60
65X65
Steel Angle
Angle Size
mm
86X86X8
125X125X12
140X140X12
160X1160X14
180X180X16
200X200X18
200X200X20
Cutting Angle
mm
50X50X5
50X50X5
50X50X5
60X60X6
60X60X6
100X100X10
120X120X10
Angle Section
mm
5.5
5.5
6.5
9
11.5
12
12
Slotting
Thickness
mm
100
126
160
210
280
300
320
Width
mm
30
53
60
75
86
89
92
Depth
mm
 
 
 
 
 
 
 
Optional Die
U-I Shaped Profile
mm
100X100X8
125X125X12
140X140X12
160X160X14
180X180X16
160X160X14
180X180X16
T-shaped Profile
mm
40X40X6
60X60X8
70X70X10
80X80X10
80X80X10
80X80X10
80X80X10
V-Bending
Length
mm
600
600
600
600
600
600
600
V-Bending
Thickness
mm
4
10
15
20
26
33
40
Voltage
Kn
350
600
900
1200
1600
2000
2500
Motor Power
kw
4
5.5
7.5
11
15
18.5
18.5
Weight
Kg
1600
1900
2500
5200
6800
11000
14500
Outline Dimension(LXWXH)
mm
950X950X1800
1640X730X1770
1860X800X1990
2355X960X2090
2680X1040X2300
2970X1240X2350
3000X1440X2450
Use case of ironworker machine
Please drop your contact to get in touch within 24 hours.