When it comes to workshop machines, an ironworker machine is a staple piece of equipment. We can use it for various tasks, such as metal cutting, punching, and plate shearing. There are two types of ironworker machines: hydraulic and mechanical. So, how do you know which one is right for you?
This blog post will discuss the differences between hydraulic and mechanical ironworker machines and help you decide which is best for your workshop!
Introduce the ironworker machines
Their multi-functionality makes them an ideal companion for modern manufacturing. Whether it's metallurgy, bridge-building, or telecommunications – no job is too big or small for these ironworker machines!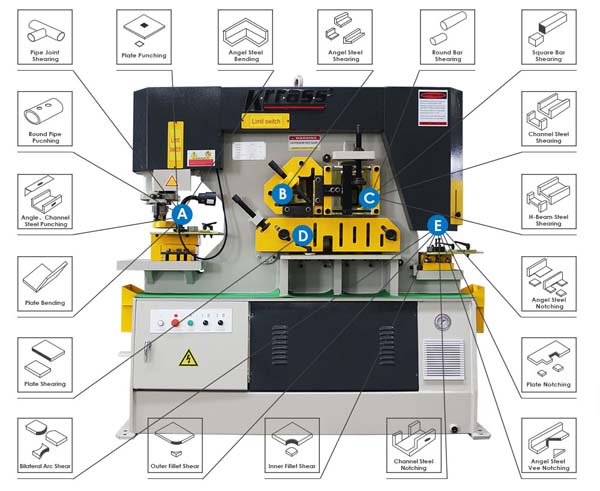 The difference between hydraulic and mechanical ironworker machines
Hydraulic ironworker machines
Hydraulic ironworker machines are great for those who want a powerful yet efficient engine with low energy consumption and maintenance costs. These machines are highly reliable and can process complex shapes with ease. The downside is that they are more expensive than mechanical ironworker machines.
Mechanical ironworker machines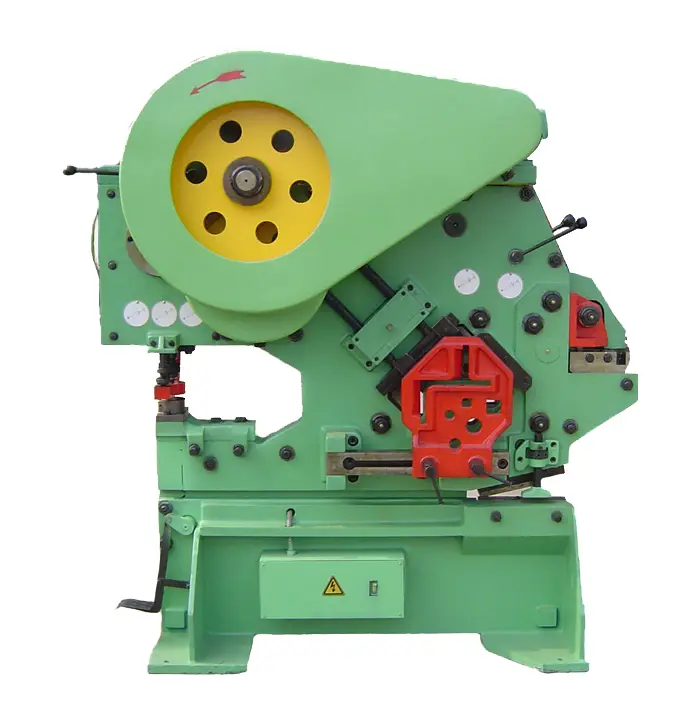 On the other hand, mechanical ironworker machines offer a more straightforward design and require less maintenance than hydraulic models. These machines can easily handle basic tasks like cutting, punching, shearing, and bending but are less effective for complex tasks. They are also cheaper than hydraulic models, making them a more budget-friendly option.
Talk about economics and efficiency: The ironworker Machine is the bee's knees regarding metal processing. Ironworker Machine has five stations: Punch hole; Notch; Shear angle iron, flat bar, round bar; Bend bar; Cut off metal plates. It's like having five tools in one! And if you're looking for something powerful yet lightweight, you should look at the hydraulic ironworker machine.
It's equipped with all the same features as a regular ironworkers but with the added advantage of being more compact and portable. Plus, it's super easy to maintain! So if you're looking for an economical and reliable solution to your metal processing needs, an ironworker Machine is the way to go!
So why wait? It's time to bring your ideas to life with an ironworker Machine! Get your ironworkers today and experience all the benefits it has to offer. Don't hesitate – you won't regret it! Now, let's get started on that metal project.
Which type of machine is best for you?
So, which type of hydraulic ironworker is best for your workshop? It depends on the kinds of tasks you need to perform. A hydraulic ironworker machine may be the best choice if you want to do more complex shapes requiring high precision and reliability.
However, a mechanical ironworker machine may be more cost-effective if you only perform basic tasks such as cutting and punching.
What application fields does Hydraulic Ironworkers have?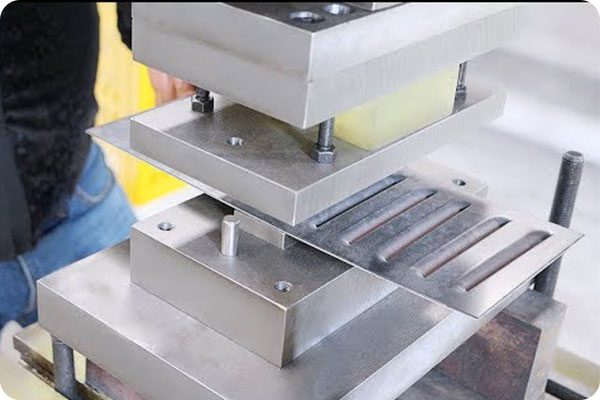 It seems like it can do almost anything! That's right; the Ironworker Machine is a highly versatile machine tool. From metallurgy and metallurgy Bridge to telecommunications, electric power, military, and more – this reliable little machine has got you covered.
Whether you need stone cutting, punching, plate shearing, or bending services – the Hydraulic Ironworker Machine and Mechanical Ironworker Machine have protected you.
Ironworker Machine application fields
The details are as follows:
Steel structure processing
Elevator car and parts processing
Trailer—spare tires, trailer hinges, plate hooks, inserts, and wall plates
Construction machinery industry—processing on belt conveyors and mixing stations
Agriculture and animal husbandry machinery industry-processing of the threshing frame body and trailer body parts
Food industry machinery-slaughter equipment frame and parts processing
High and low-voltage tower parts processing
Wind power equipment—processing of parts on the stairs and pedals on the wind power tower
Machining-processing of building embedded parts/conveyor brackets and other parts that play a role in connection
Grain machinery-grain and oil equipment, starch equipment support, shell, small parts processing
Railway wagon/car, crane parts processing
Channel steel, square steel, round steel, H steel, I-beam, and other steel cutting, punching, bending
The hydraulic ironworker machine is fast, efficient, and low maintenance; it is the modern industry's preferred tool for metal processing. 
In addition, We can also use an ironworker machine for metal parts processing in various industries. With its simple operation and energy efficiency, why wait? Get your Ironworker Machine today!
The benefits of hydraulic iron worker machines
Hydraulic ironworker machines are a necessary piece of equipment in any metalworking shop. They offer several benefits, including low energy consumption and simple operation. An ironworker machine is a perfect choice if you're looking for an efficient way to process metal.
A hydraulic ironworker machine is an excellent option for those looking to get more out of their metalworking. This type of ironworker can easily cut, punch, and bend multiple pieces of metal. It's also incredibly reliable thanks to its low energy consumption and maintenance cost.
Not only are they efficient, but hydraulic ironworker machines are also incredibly versatile. We can use them in various industries, from metallurgy to military operations.
In conclusion, an ironworker machine is essential in any workshop due to its versatility. The decision between a hydraulic or mechanical model depends on your specific needs. A hydraulic ironworker machine may be the best option if you are looking for a robust and reliable machine.
However, a mechanical model may be more cost-effective if you need to perform basic tasks such as cutting and punching. Whichever type of ironworker machine you choose, it is sure to make your workshop operations more efficient.
An ironworker machine can make any workshop operations more efficient and is a must-have for any modern manufacturing business. This blog post discussed the differences between hydraulic and mechanical iron workers and provided advice on which type of machine is best for different workshop tasks.
Hydraulic ironworker machines are more powerful but require more maintenance, while mechanical models offer a more straightforward design at a lower cost. No matter which type of ironworking machine you choose, they will help you simplify your workshop's metalworking process.
KRRASS: The Best Choice For All Sheet Metal Manufacturer
When considering the overall costs of purchasing, maintaining, and operating a sheet metal equipment setup, a sheet metal fabrication service: an ironworker machine, is the best option. KRRASS has a tremendous reputation in the market because of its focus on consistency and quality at the most competitive price.
Whether ironworker or any other application, our team of experts has the right combination of industry knowledge and the latest tool to provide you with the best products and services in the market. Moreover, we set ourselves apart with our advanced system that's completely online. Just let us know your product needs, Request A Quote, and start the process.
Make a request and Get Started Today
Learn more about our products, please visit and subscribe to our Youtube channel