The WC67K Series Bending Machine is an industrial press used for bending various metals. It is a lightweight, compact machine that is cost-effective and offers precision in different types of bending.
Common applications for the WC67K Series bending machine include:
Angle bend production
Tank shell production
Production of large/lengthy plates
Adapter board forming
Automotive parts production
Die making
Advantages of WC67K Series bending machine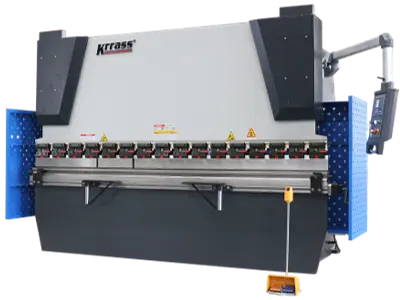 WC67K Series bending machine not only has a wide range of application environments, but also has the following main advantages:
High accuracy – The precision and repeatability of the bending angle is greater than ±0.2 degree.
Efficient production time – The bent parts come out quickly with no need to manually adjust the angle of each part, saving employees time and cost.
Sturdy construction – These machines are built from heavy duty material that ensures reliability and long lasting use.
Easy to operate – They feature a simple touch screen system, allowing for an intuitive and efficient operation.
How to choose the right model when purchasing
When choosing a WC67K series bending machine for purchase, there are a few key considerations to keep in mind:
Size – Measure the workspace you plan on using the machine in, and choose a size accordingly.
Options – Think about what additional features may be important to you. For example, would you like a machine with torsion bar feeding systems?
Durability – Look at how strong the construction is, it should be able to stand up against regular use without issues.
Cost – Consider your budget in terms of both initial price and ongoing maintenance costs.
KRRASS: the best choice for
all sheet metal processing manufacturers
When considering the overall costs of purchasing, maintaining, and operating a sheet metal equipment setup, a sheet metal fabrication service: KRRASS brand is your best choice.
KRRASS has a tremendous reputation in the market due to its focus on consistency and quality at the most competitive price.
Whether it's bending machine or any other application equipment, our team of experts has the right combination of industry knowledge and the latest tool to provide you with the best products and services on the market.
Moreover, we set ourselves apart with our advanced system that is completely online.
Just let us know what your product needs, request a quote, and start the process.
Make a request and Get Started Today
Learn more about our products, please visit and subscribe to our Youtube channel