Hydraulic Guillotine Shearing Machine for general machinery, electrical machinery, electrical and light industry. For a variety of sheet metal (tensile strength <450Mpa) straight cut, the cut thickness corresponding reduction, improved blade material may also be cut low-alloy steel, stainless steel, high tensile strength spring steel Material. After the machine has a gauge, front bracket material. Backgauge electrically adjustable digital numerical display, convenient and reliable adjustment. The amount of travel on the turret can be adjusted steplessly, in order to increase the number of stroke of the material under shear. Shearing machine equipped with a safety fence at the edge, to ensure safe operation, the feed may be directly fed to the nip foot centers, edge gap adjusting quickly and easily.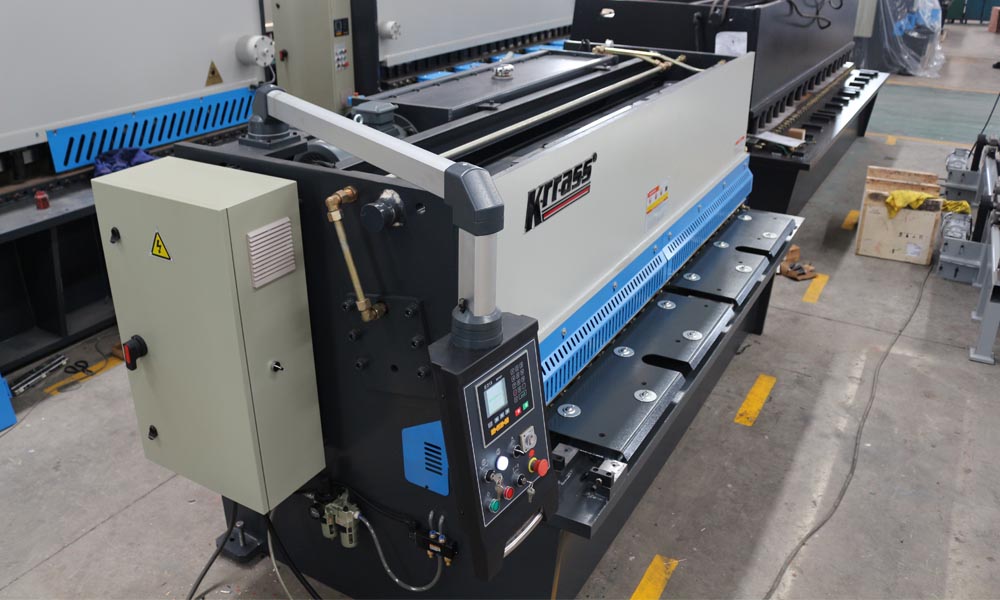 Hydraulic Guillotine Shearing Machine steel welded frame structure; eight corners at right angles to the guide rail, high precision, rigidity, and hydraulic preload. The hydraulic system uses two-way cartridge valve integrated; the system uses "PLC" programmable controller; and configurable digital trip, optoelectronic protection device and the movable table (easy to replace the mold), Hydraulic Guillotine Shears on the slider and having double-acting hydraulic cushion functions in the working pressure stroke can be adjusted according to process requirements within the predetermined range, simple operation using the centralized control buttons. An adjustment, three operating manual and semi-automatic mode.
And the stationary work machine, noise, safety and reliability, can be a single continuous cutting, shearing thickness thicker mechanical transmission, but the hydraulic system is the use of a liquid as an intermediate for power transmission medium, large shear forces , hydraulic pressure is also correspondingly high, accuracy of the hydraulic components, the strength requirements are high, a correspondingly higher manufacturing cost. Hydraulic Shearing Machine tool holder during cutting around a fixed pivot axis an arc, through the leverage fulcrum by a small force, the shearing edge lifetime can be improved, the life of the machine, compact structure, and can not adjust the upper limit the amount of travel on the turret, greatly improve work efficiency.
This way, the hydraulic brake formula Hydraulic Shearing Machine intelligent control can be achieved, steel shearing machine with high accuracy, in the future high efficiency, high accuracy, demanding industrial requirements to meet demand. And learn some advanced technologies trying to do at a high efficiency, high precision, high energy saving and environmental protection Hydraulic Guillotine Shears in the design.
Learn more about our products, please visit and subscribe to our Youtube channel