The HRK V Groover Machine was built to open a new realm of possibilities. This machine will enable you to form sharp corners on mild steel, aluminum, and stainless steel like nothing else on the market.
1. The frame and beam of HRK V Groover Machine are designed with frame structure. The working table is made of 50mm low-alloy high-strength structural steel and the frame is made of 20mm Q235 steel plate.
2. Strictly according to the machine tool processing technology, using electric furnace tempering to eliminate welding stress and reduce equipment deformation.
3. Through the sand blasting process, the paint effect is guaranteed to be excellent.
4. The HRK V Groover Machine machined parts are fixed by a hydraulic clamping system, which has a fast slotting speed and ensures strong clamping. The accumulator compensation is added to the hydraulic system, and the motor works in gap mode to save energy and control oil temperature.
5.HRK V Groover Machine uses three cutters to process "V" grooves, so the cutting amount is evenly distributed, reducing the deformation of the workpiece. And the optional micro cooling system can prolong the service life of the tool and reduce the production cost.
6. The crossbeam of HRK V Groover Machine adopts tin bronze helical gear, 45 steel forging quenched and tempered helical rack and QH silent guide rail drive. The moving speed can be adjusted by frequency conversion, and the cutting process is smooth and efficient.
7. HRK V Groover Machine's tool post transfer device uses SFSR silent ball screw and QR roller heavy-duty linear guide, so it has high accuracy.
8.HRK V Groover Machine can be processed in both longitudinal and horizontal directions, and has a process to realize the front and back processing function of the plate.
9.Using this V Groover Machine, it can be done with only input keyboard and processing program. Depending on the operator and the material, the knob can be used to adjust the processing speed, which is convenient for the operator.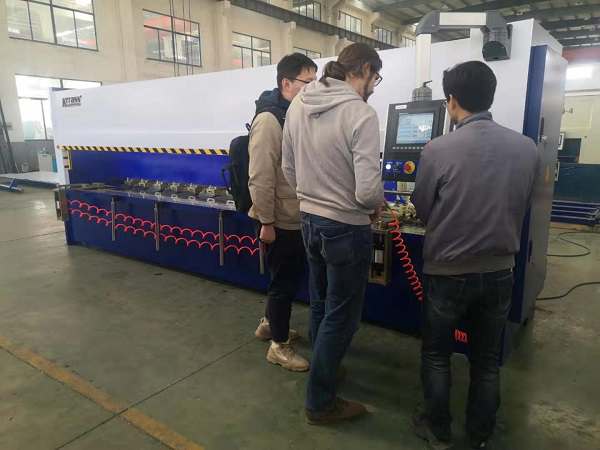 10. You can understand the working conditions in the process through the display screen.
11. Servo motor and sensor are adopted to ensure the safety of operators.
12. The alarm message appears on the display when the equipment is abnormal, which is easy to repair.
13. When using this V Groover Machine to process, only labor is required for the placement and removal of the workpiece, so labor can be saved.
14. The HRK V Groover Machine table has a self-healing function. During use, customers can plan the table according to their own requirements to ensure processing accuracy.
Learn more about our products, please visit and subscribe to our Youtube channel