Click the button to select the Part you want to view:
Part4: Electrical System Debugging
Connect BCL3766 External IO Board and BMC1604V2 control card with  C62 and C37 cables, and provide 24V power for BCL3766 External IO Board. Before turn on system power, please confirm whether power connection is correct or not and whether positive and negative polarity of power is short circuit or not.
Notes: Prohibit plugging BMC1604V2 card, C62 and C37 cable with electric heating!
4.2 All the hardware signal test
Start computer and CypCut software. Click "file" in menu above→"Diagnosis".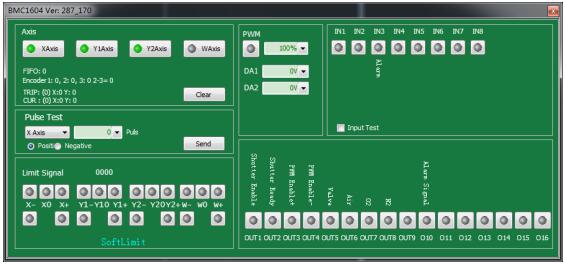 Please check in sequence positive/negative/origin switch of each axis, input signal, output signal, DA signal, PWM signal and servo-enabled signal.
For machines of double shaft drive, count value of encoders of two axes can be reset through 【reset】 button. Then send 1000 test campaign about the status of each axis, and ensure feedback pulse value and sent pulse value of encoder is in accord.
Setting method can refer to Appendix 7.1 "Scan cut" introduction file for more details.
First, recommend setting servo driver parameters as conservative values. Also set the parameters of CypCut as conservative values. Click "Layer" → "Global parameter" on CypCut. Parameter setting is shown as below:
Use pulse test function, test whether pulse equivalent of the system is set correctly or not, click to test whether the direction and motion of each axis is normal or not.
Dual-drive machines do not install the electric motor at first, with no-load operation. Be sure to confirm the rotation direction and mechanical installation method of electric motor is well, and then install the motor.
When it have been confirmed the limit origin signal is normal, make each axes of the machine home origin and build machine coordinate system.
4.4 Cypcut basic functional test
Use control panel on the right of CypCut software to click manually, rise and fall cutting head, switch gas, switch shutter, switch beam, laser on, and conduct each test by the operation of changing fixed fire power etc. Confirm the system can normally control laser, height controller, gas valve, etc.
Learn more about our products, please visit and subscribe to our Youtube channel
Click the button to select the Part you want to view: