A press brake is a manufacturing device for bending sheet metal. The body of a press brake is usually narrow and extended so we can be bent the large pieces of sheet metal in the press brake. As the press brake bends, the upper slide block presses the sheet metal over the die to complete the bend. The sheet metal can be bent through a machine several times until it reaches the desired shape.
In this article, we will analyze the configuration parameters of the MB8-110T2500 DA53T press brake in detail so you can choose the right 110ton press brake for your reference.
MB8-110T2500 DA-53T press brake, it's an affordable Sheet Metal Press Brake with an impressive number of features and options. In addition to using the advanced DELEM DA-53T 2D graphical controller, the machine has the following features:
The machine adopts a new industrial design combining a modern aesthetic concept, high-quality production technology, and a simple appearance.
The latest high-frequency responding hydraulic control technology is faster, more efficient, and more accurate.
Heat treatment of the rack, rigidity optimization verification on the entire machine, and applying hydraulic crowning structure jointly ensure the bending precision of MB8 series press brakes.
The optimal ratio of parameters and core configuration provides stable performance and easy operation.
DA53T controller is equipped with a standard 3+1 axis (Y1, Y2, X-axis, and W-axis crowning). At the same time, you can be selected the suitable die to realize the bending processing of various workpieces with complex shapes.
The Press Brake adopts full closed-loop electro-hydraulic servo synchronous control technology. The position signal of the slide block is fed back to the CNC controller by the grating ruler on both sides. Then the CNC controller controls the opening size of the synchronous valve and adjusts the quantity of the oil cylinder to manage the slide block (Y1, Y2)to run at the same frequency and always keep the parallel state to the working table.
The CNC controller will automatically control the deflection compensation of the worktable to achieve a uniform angle on the entire length of the workpiece according to the machine process state.
When bending at the press brake, the workpiece with consistent precision over the whole worktable can be obtained using hydraulic or mechanical crowning. The hydraulic crowning is composed of a group of oil cylinders in the lower working table, which can make the working table move relative to each other and form an ideal curve with convection to ensure the relationship between the relative position of the sliding block and the bearing force remains unchanged. The CNC controller determines the compensation amount according to the thickness of the plate and the material characteristics.
| | | | |
| --- | --- | --- | --- |
| No. | Name | Unit | 110T/2500 |
| 1 | Bending Pressure | kn | 1100 |
| 2 | Bending Length (A) | mm | 2500 |
| 3 | Column Distance (B) | mm | 2000 |
| 4 | Throat Depth (C) | mm | 410 |
| 5 | Slider Stroke | mm | 200 |
| 6 | Max. Opening Height (F) | mm | 570 |
| 7 | Y1, Y2-axis Down Speed | mm / sec | 220 |
| 8 | Y1, Y2-axis Back Stroke Speed | | 140 |
| 9 | Y1, Y2-axis | Mm/m | 0.01 |
| 10 | X-axis Max. Distance | mm | 600 |
| 11 | Workpiece Linear Degree | Mm/m | ≥ 0.15 |
| 12 | Back Gauge Positioning Accuracy | Mm/m | 0.05mm |
| 13 | Back Gauge Repeat Positioning Accuracy | Mm/m | 0.01mm |
| 14 | Sliding Front Supporting Arms | pcs | 2 |
| 15 | Back Stopper | pcs | 2 |
| 16 | V-axis Crowning | Mechanical Crowning | |
| 17 | CNC Control Axes | Y1+Y2+X+W Crowning | |
| 18 | Main Motor | kw | 7.5 |
| 19 | CNC System | DA53T | |
| 20 | Length*Width*Height | mm | 3240*1780*2680 |
| 21 | Weight | T | 7.8 |
| | | | |

Standard Configuration List
| | | | |
| --- | --- | --- | --- |
| No. | Name | Model/Manufacturer | Others |
| 1 | CNC System | DA53T Controller - Holland DELEM | |
| 2 | Electrics | Schneider - France | Travel switch & Limit Switch |
| 3 | Main Motor | Siemens -Germany | |
| 4 | Back Stopper, Timing Belt, Timing Pulley | Taiwan | Positioning Control |
| 5 | Servo Motor | Estun | Positioning Control |
| 6 | Servo Drive | Estun | Positioning Control |
| 7 | Pedal Switch | KACON - Korea | |
| 8 | Hydraulic System | Bosch Rexroth - Germany | |
| 9 | Sealing Ring | MERKEL - Germany | |
| 10 | Oil Tube Connector | EMB - Germany | |
| 11 | Front Safeguard | Produced by KRRASS | |
| 12 | Back Safeguard | Produced by KRRASS | |
| 13 | Die | One Set of standard Dies | |
| 14 | Backgauge | Ball Screw and Polished Rod, Linear Guide Rail-Taiwan, HIWIN | |
| 15 | Clamp | Quick Clamp - China | |
| 16 | Deflection Crowning | Mechanical Crowning | |
| 17 | Grating Ruler | FAGOR - Spain | |
| | | | |
Standard configuration introduction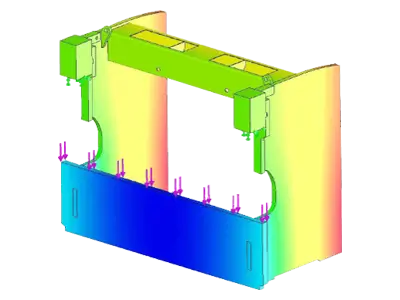 KRRASS® press brake features a rigid frame for min deflection under the load. The frame steels are of German origin and designed using SOLIDWORKS 3D programming and made with quality steel Improved Q235 using the latest technology.
Feature
Machine welding is made by welding apparatus and welding robots.
After the welding, we make a stress relief process by vibration system.
After the stress relief process, the machine frame goes to CNC 5 axes machining centers for accuracy.
All reference surfaces and connection holes are machined.
All these processes protect machine frame sensitivity for a long time.
2. Ram Positioning System - Y1, Y2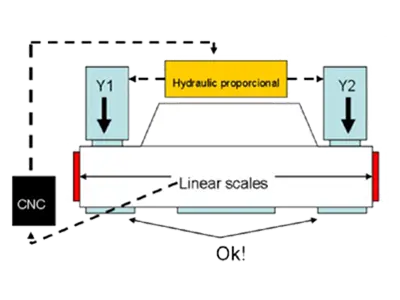 In this system, each cylinder operates independently. Linear encoders are mounted on a separate subframe on each side of the machine. Combined with servo-hydraulic valves and the CNC command center, these encoders provide a 0.001mm accuracy and can program all ram positions, speeds, and tilt. The decompression point is also programmable; this feature and programmable speeds are handy when bending large sheets.
3. PRO S Press Brake Cylinders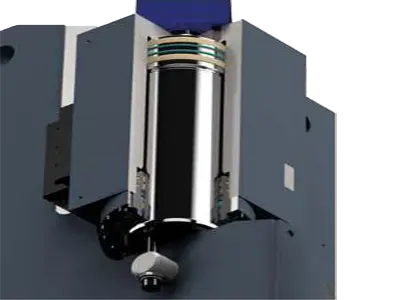 To allow tilting of the ram without damage, we use spherical connections. This type of connection also enables peak forces to be absorbed gently.
Advantage
High-Speed Free Fall
High Bending Speed
High Return Speed
Superficial noise level.
Free-fall bending & return speeds of the EURO PRO S press brakes series make it the best choice to meet demands in today's competitive markets.
PRO S series offer twice as fast production capacity as conventional CNC press brakes.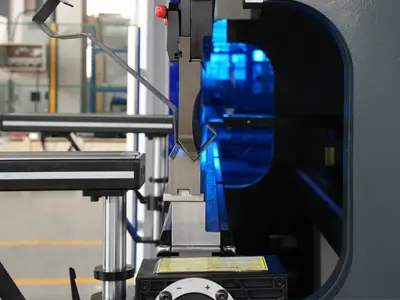 KRRASS® R&D engineers remembered to increase the stroke and opening (daylight) for the press brake of an ever more versatile. With these specs, we can use the press brake with more comprehensive tools and deep bending; We can also put the parts that are quickly removed from the machine's front.
Advantage
This 110-ton press brake's throat depth is 410mm, providing a big gap for your bendings.
This 110-ton press brake is equipped with European-style top tools & Dies.
The machine's open height is 570mm, the innovative solution for press brakes.
5. BGA Series Multi-Axis Back Gauge
KRRASS® press brake is equipped with a back gauge constituted by a solid structure to assure the best repetitiveness and high precision in axes positioning. The CNC-controlled back gauge automatically adjusts the X (depth) and R (height) axes to ensure your material is always positioned accurately, resulting in higher-quality finished parts.
Advantage
High-Speed Free Fall
High Bending Speed
High Return Speed
Shallow noise level
X precision servo-driven back gauge.
Manually adjustable Z1, Z2-axis
High-Speed with HIWIN linear guides.
DELTA Servo Motors and drives drive it.
Complete Backgauge fingers on a double linear guide.
X-axis speeds up to 800 mm/sec & accuracy to 0.01mm.
7. KRRASS Pro® CNC Crowning System
Pro® family Crowning
The KRRASS Pro® CNC Crowning system lets the user offset beam deformations while bending. Thus, the angle is kept constant along the entire plate length.
Advantage
Easy reversibility of tools because of symmetrical adaption
Quick clamping for the dies
Suitable for 4-V dies & Single V Dies.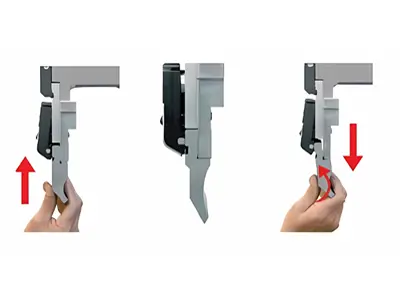 The quick clamp system reduces the time spent changing tools by 80% compared with traditional methods.
Advantage
Vertical tool exchange
Safety guard
Including selectable intermediates
Sectional top Punch
AMADA Standard 2-V bottom tools.
Hardened and ground HRC 55
Optional configuration introduction
The main motor servo motor is used to drive the servo oil pump. This control method has shallow energy loss, and the energy-saving effect is prominent. It has the advantages of energy saving, noise reduction, high efficiency, and low heat.
Advantage
Energy saving
Environmental protection
Low noise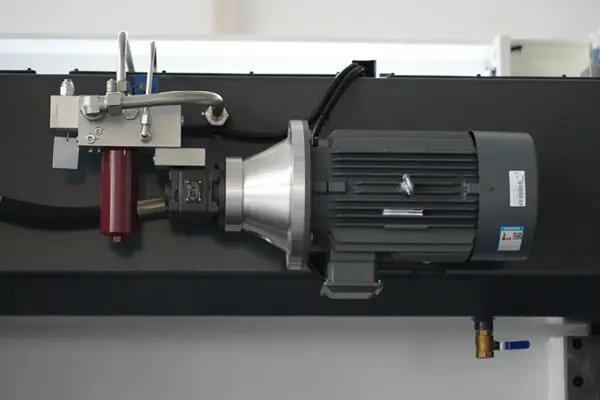 The new compact DA-53T control adds a state-of-the-art complete touch control solution for synchronized press brakes. We offer the most accessible CNC programming based on the Delem graphical touchscreen user interface.
This panel-based control, standard capable of controlling up to 4 axes, can be integrated into cabinets and used in an optional pendulant arm housing.
Its 10.1″ widescreen high-resolution color TFT, with industrial-grade multi-touch technology, gives access to the proven Delem user interface. It enables direct "hot-key" touch navigation between product programming and actual production. Functions are located where needed, offering optimized ergonomics throughout the entire application.
Machine adjustment and test bends are minimal, with a quick and easy program-to-production work sequence.
"Hot-key" touch navigation
10.1″ high resolution colour TFT
Up to 4 axes (Y1,Y2 + 2 aux. axes)
Crowning control
Tool/material/product library
Servo and frequency inverter control
Advanced Y-axis control algorithms for closed-loop as well as open-loop valves.
TandemLink (option)
USB memory stick interfacing
Profile-T offline software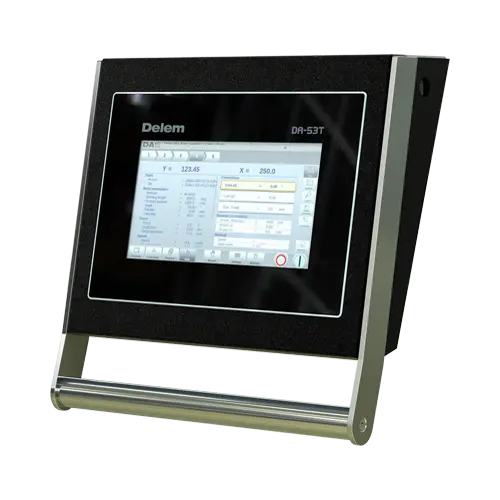 Optional CNC Control System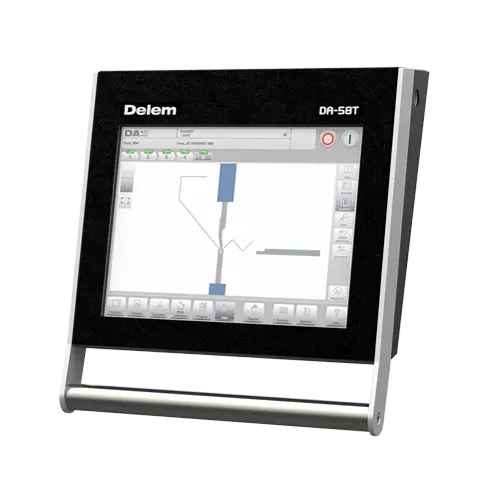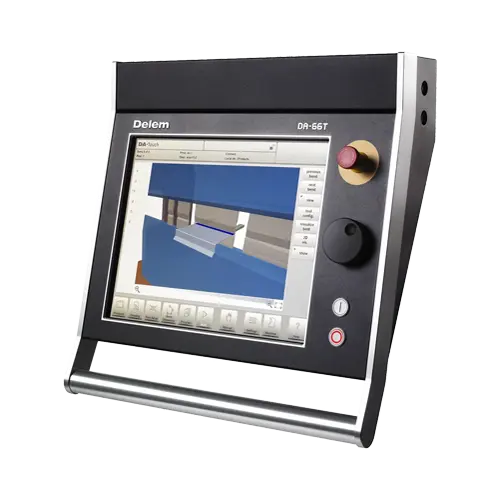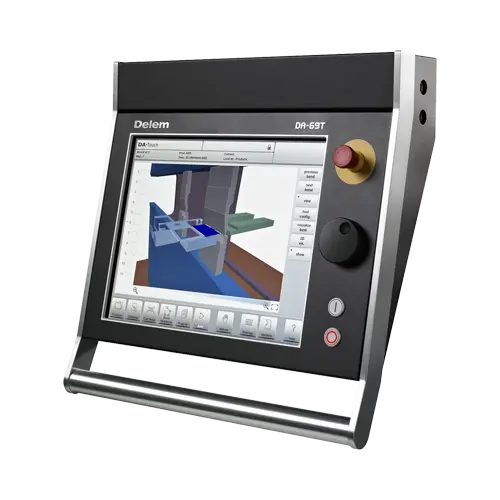 3. Press Brake Safety System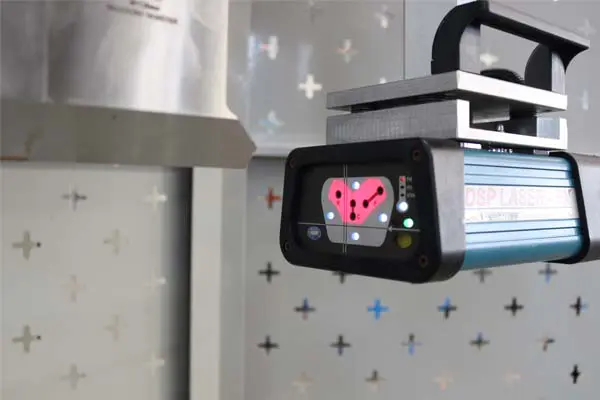 KRRASS® Press Brke with DSP generates visible laser protection compliant with EN12622 regulation. The beam protects the press brake operator from the danger of being crushed between upper&lower tools.
Advantage
The most advanced laser systems
Box-shaped part bending feature
Innovative tooling grid guarding pattern
Completely foot peddle-controlled operation
Auto-blanking for automatic box and side wall detection
UL approved
CE certified
Type 4 patented process control
"Safe Release" supports are unhooked without damages in case of collision.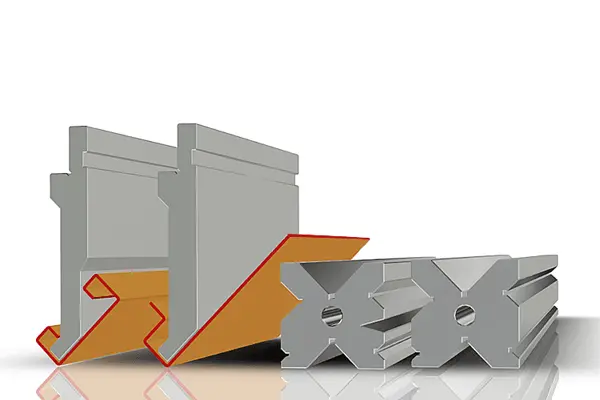 Sheet Metal Press Brake punches and dies will be one of the most important topics we discuss before you place the order. A suitable set of punches and die will complete any bending shape. We can provide appropriate toolings according to the different bending requirements of customers.
5. Number of Axes Selection
Typically, this MB8-110T2500 DA-53T 110ton press brake uses the 1-Axis CNC back gauge. You can also choose a 2, 4, or even 6-axis (some multi-axis CNC back gauge requires a corresponding CNC Control System) CNC back gauge according to your needs and use it to meet your production processing needs.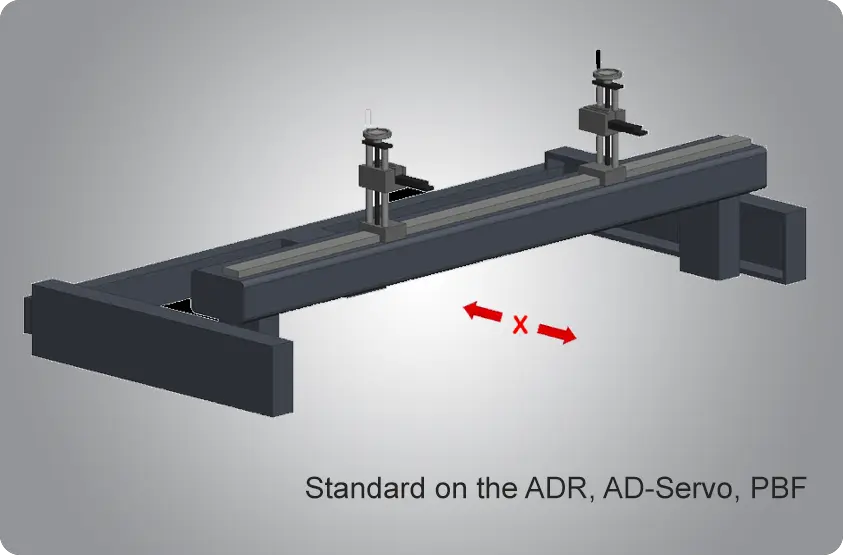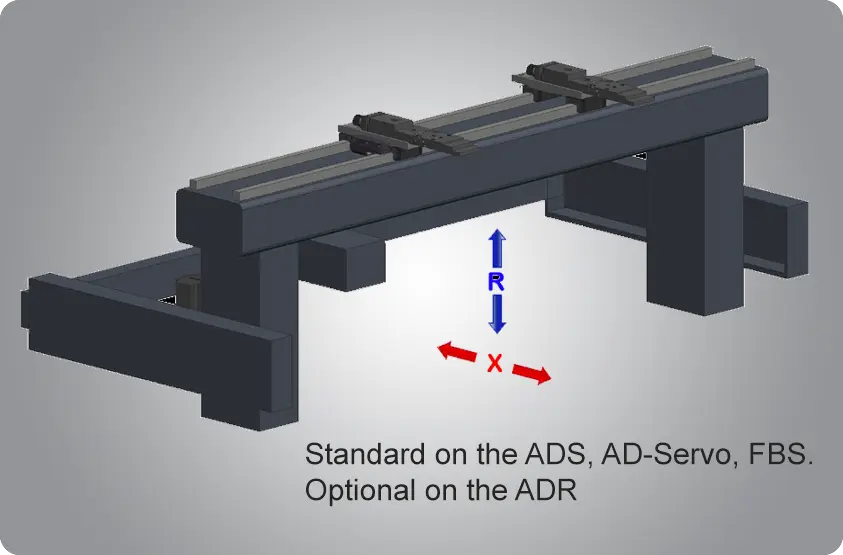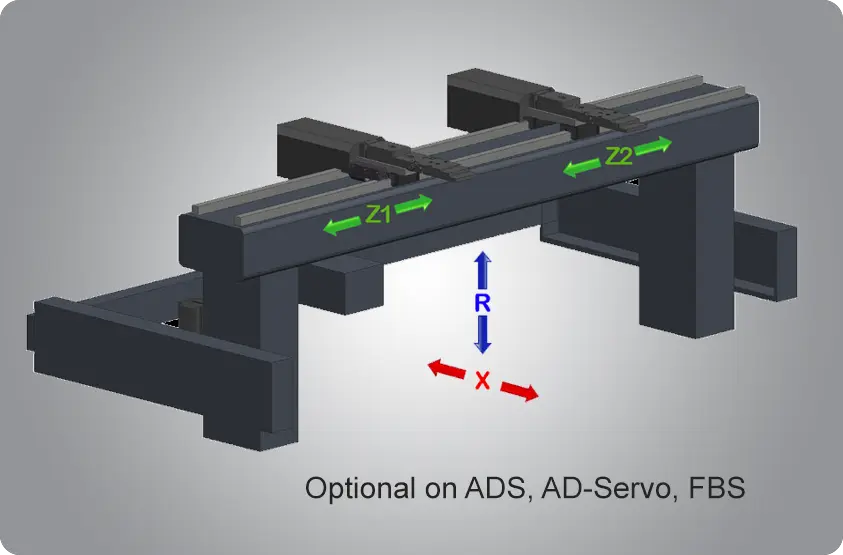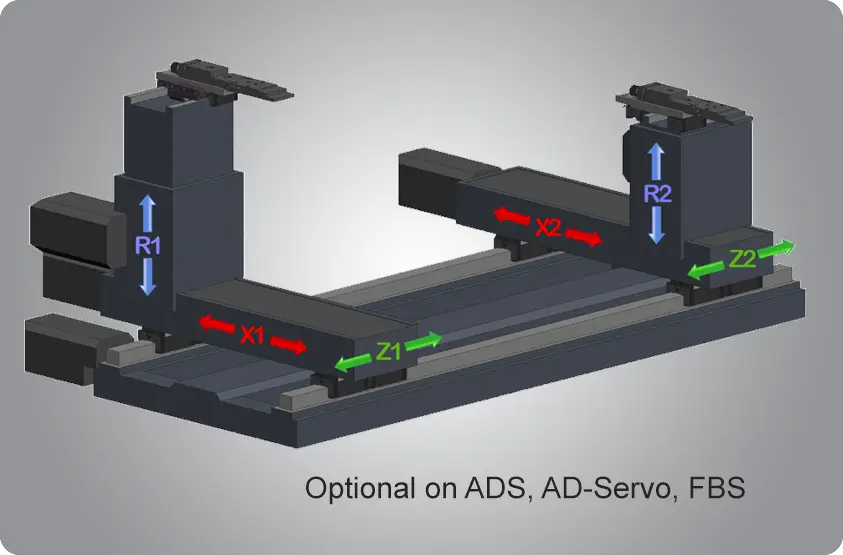 This MB8-110T2500 DA-53T 110ton press brake is a cost-effective sheet metal bending machine, which is a good choice for most small and medium-sized enterprises. Excellent performance, quality, and a reasonable price are the right choices for your target.
Above is some reference information on the DA-53T press brake. It can help you when you purchase the DA-53T press brake.
KRRASS: the best choice for
all sheet metal processing manufacturers
When considering the overall costs of purchasing, maintaining, and operating a sheet metal equipment setup, a sheet metal fabrication service: KRRASS brand is your best choice.
KRRASS has a tremendous reputation in the market due to its focus on consistency and quality at the most competitive price.
Whether it's press brake or any other application equipment, our team of experts has the right combination of industry knowledge and the latest tool to provide you with the best products and services on the market.
Moreover, we set ourselves apart with our advanced system that is completely online.
Just let us know what your product needs, request a quote, and start the process.
Make a request and Get Started Today
Learn more about our products, please visit and subscribe to our Youtube channel